Students and young adults
Marom Berlin is the organisation for students and young adults of Masorti Germany. Marom organises
activities, events and seminars
for participants from Berlin, Germany and Europe, in cooperation with
MAROM Olami
, the international Marom organisation.
The main goals are: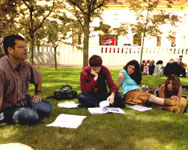 - to make the participants feel comfortable and at home
- to strengthen the feeling of belonging to a community through mutual exchange
- to let them experience their individual Jewish identity together with others in a surrounding of traditional Judaism
- to provide the opportunity to experience the daily life of traditional Judaism in a modern world
If you are interested in participating in Marom Berlin events or need more information, please email our coordinator at
marom(at)masorti.de
.
Marom International Seminar in March 2016 in Berlin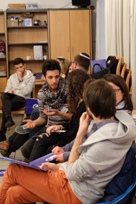 From March 10th to 13th, Masorti Germany was hosting the 2016 International Seminar of Marom Olami, the international Head Organisation for young adults and students of Masorti Olami with 42 participants from all over the world, amongst them Director and Chairman of Marom Olami, in different locations in Berlin. The main topic of the seminar was "community building", but the informal exchange amongst the participants was no less important. Simultaneously, Masorti Germany hosted the Masorti Europe Board meeting in Berlin.
One of the highlights of the week-end was the celebration of Shabbat in the Oranienburger Strasse Synagogue.
->Top